Ongoing Restoration of Ardglass - 1929 Harrison Butler Cyclone II -
By
DCM
Tuesday, 26th May 2020
The Cyclone II was the first of a series of small yachts with a waterline of 22' 6" designed by Thomas Harrison Butler between 1928 and 1936.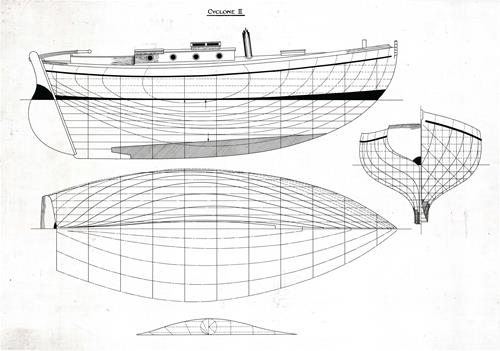 Built  in 1929, for Thomas P. Russell,  by Anderson, Rigden & Perkins, Ardglass was the first Cyclone II  and therefore the first of the Harrison Butler  22' 6" Waterline boats.
She cost £264 14s 8d.to build or approximately €18,000 today.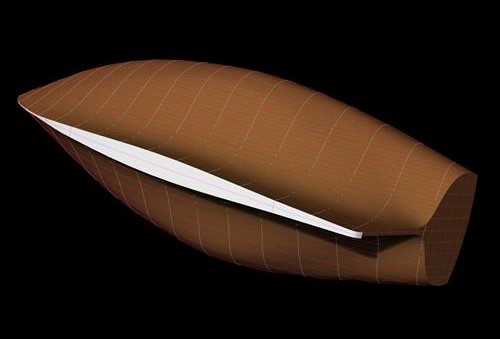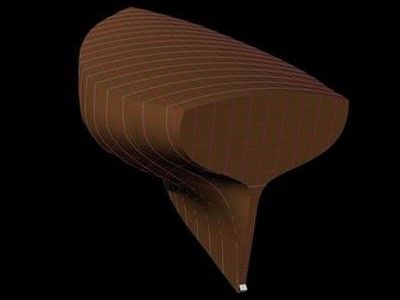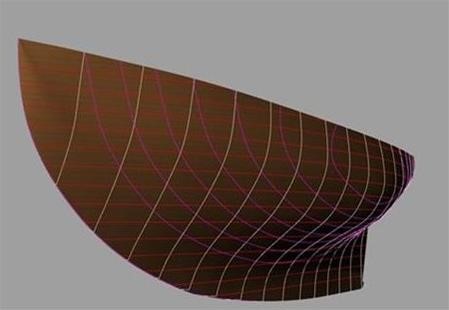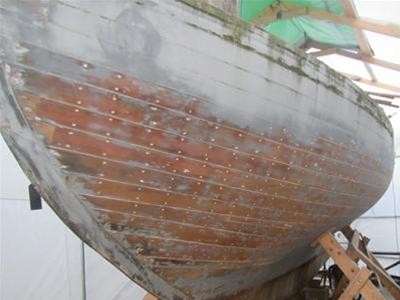 Below, used with her permission, are extracts from correspondence with Thomas Russell's granddaughter Kay Haffenden .
"My grandfather Thomas Patrick Russell was born in King's Castle in the small village of Ardglass, County Down on St Patrick's day.  Hence the name.......
Ardglass was passed on to my Auntie Frances (Agnes) who used to sail with my grandfather in the Solent. She was a keen sailor and at one time the only woman harbour master in England - in beautiful Newton Ferrers, Devon.
I think it must have been in the late sixties/seventies Uncle Pat took on Ardglass and kept her on the idyllic Beaulieu River. 
Uncle Pat ran a boat yard at Hythe , Near Southampton called Marine Services and for a while also had a marine chandlery on a barge (called Tim)  on the Beaulieu river.  When in his later years, he could no longer look after Ardglass, Uncle Pat offered her to John and myself before he put her up for sale, but we knew we would find it a great challenge to look after her and find a suitable mooring here in Sussex.
Hope that helps a bit with the history"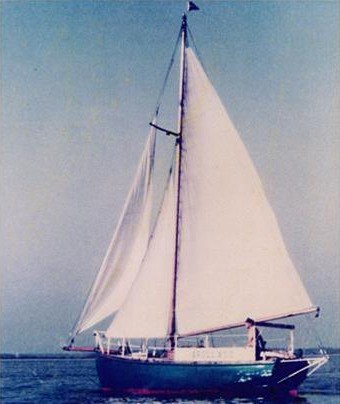 Pat Russell at the helm of ARDGLASS (Courtesy of Kay Haffenden).
The following extract from, The Run of The Tide by C.W.R Winter; Published by Patrick Stephens Limited; ISBN 1-85260-260-0
"..  I had met Pat Russell, owner of a small boatyard in Hythe on Southampton Water. Pat Russell also had another small yacht yard in the Beaulieu River at Buckler's Hard, and was the owner of Ardglass, a Harrison-Butler 7-tonner.
Fifty years ago, the name of Harrison-Butler was well known in yachting circles in this country and was synonymous with all that was best in yacht design. Working in the days before fibreglass had been developed for small boat construction, he was a craftsman in wood. He was also a perfectionist and all the hulls he designed were sturdy and had a great beauty of line. When something looks right, then very often it is right, and there is no doubt that all his designs had the thoroughbred look.
His particular interest was in balance and ease of handling  and he strove to correct the prevailing characteristic of many yachts of carrying heavy weather helm. In this he was conspicuously successful. Most of his designs were of small boats, his most popular size being around 7 tons Thames Measurement. .........
Basically, we were looking for a small auxiliary cruising yacht, preferably with character and some degree of comfort, and suitable for modest coastwise and cross­-Channel cruises. Though she was not on the market Ardglass obviously fulfilled this specification and her type interested us. When Pat Russell kindly suggested we should take her away for a week we jumped at the offer.
We picked her up from his yard in Hythe, where she had been fitting out, and at the end of the week delivered her to her mooring in the Beaulieu River above Buckler's Hard.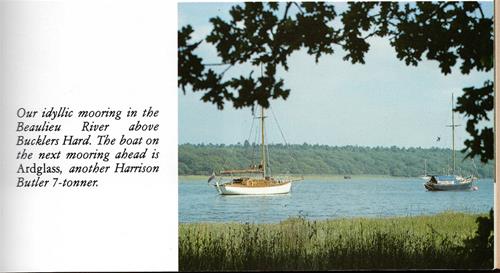 This was our first experience of a Harrison-Butler boat, and from the start we were delighted. We were not expecting a high performance, but Ardglass was easy to sail. Her gear was not too heavy to handle, and her balance was good. Even in a blow she carried very little weather helm, and we spent three or four days blissfully cruising in and out of the Solent, fetching up each night in the peace and quiet of Newtown.
On arrival back in the Beaulieu River we were already ardent Harrison-Butler fans and had decided - perhaps somewhat pre­sumptuously - that we were going to own a 7-tonner, come what may. Pat Russell was sympathetic about our aims, which he thoroughly endorsed, but declined to part with Ardglass, so we had to look elsewhere..."
The following from correspondence with Joe Russell.
"........ It was a very sad day for me when my father decided that he could no longer manage her on his own and decided to sell her. After long discussions and agonizing weeks of making excuses to myself I decided that I was in no position to look after her as she deserved. I was based in Antibes and working as a yacht skipper sailing between the Mediterranean and the Caribbean. Although I had somewhere to keep her, she would have been left for long periods of time without care. Being pitch-pine on oak the hull would have opened up easily in the sun and would have killed her. Around that time I was running a beautiful Campers ketch called 'Saharet' and remember it took us a lot of effort to hang covers over the topsides to ease the  seams from opening whenever we stayed too long in one place.
Of course when my father, kept her on a swinging mooring on the Beaulieu River, she faced a different direction every hour of the day. Perfect for a boat of her construction.I remember in my early days sailing on Ardglass in Newton Ferrers and my father had a little boat called 'Lady Vagabond', what she was I cannot remember. He then had an X-Class for a few years which he eventually swapped with Francis for Ardglass. Then began a long delightful love affair between him and his boat............
......... In 1975 I took her, with a couple of old sailing buddies, for a cruiser race round the Isle of Wight. We were to log engine hours and report to the yacht club at the end of the days race. Unfortunately we were inside the race off St Catherine's Point on the isle of Wight , when the jib sheet broke and as we were on a lee shore in about F4 winds we could not 
go about to free that side. The sail was frapping away ten to the dozen before we could down the sail which was on furling gear.  Anyway we got it all fixed and settled down to carrying on under power when we noticed the cabin full of water. Frantic work with the diaphragm pump was making slow progress when the rubber diaphragm, which had never been used in anger, gave up the ghost. What to do next? The water was getting up over the gearbox and we had to do something. I could not get to the jubilee clips on the skin fitting, so in desperation I cut the cooling water hose close by and used this to empty the bilges. That's when we discovered that she had sprung the garboard plank due to the flogging of the jib for 15 or so minutes. Anyway we made it safely back to Beaulieu keeping the sea-cock cracked open to supply enough cooling for the engine. Another fun day's sail.
The original engine was an Ailsa Craig petrol/paraffin engine which was replaced in the early 60's by a Perkins diesel.
I remember Pop telling me that he sold her to a very nice gentleman in Salcombe, but that is all that I can remember of her new owners. His old friend and sailing buddy, Ron Beach told me that he was very happy with the new owner who he felt would treat her a she deserved. But he must have passed on.........."
Subsequently Ardglass has had a number of owners and I think remained in use up until about 2003 or 2004. 
Two photographs from a 2004 Brokers brochure.